IP Changer (IPC) v1.3.4.0 Released !
What is IPC:
IP Changer (IPC) provides a simple way to change your IP address for all your available network adapters.
IP Changer (IPC) will detect all Network Adapters enabled on Startup; from there, you can select the Adapters you wish to configure and change between them to manage all your Network Interfaces as you see fit. It additionally includes access to Enable/Release/Renew DHCP, Enable/Disable Network Adapter, and Enter IP Manually. And you can also make Custom Settings that can be saved, making them readily available the next time you open the tool.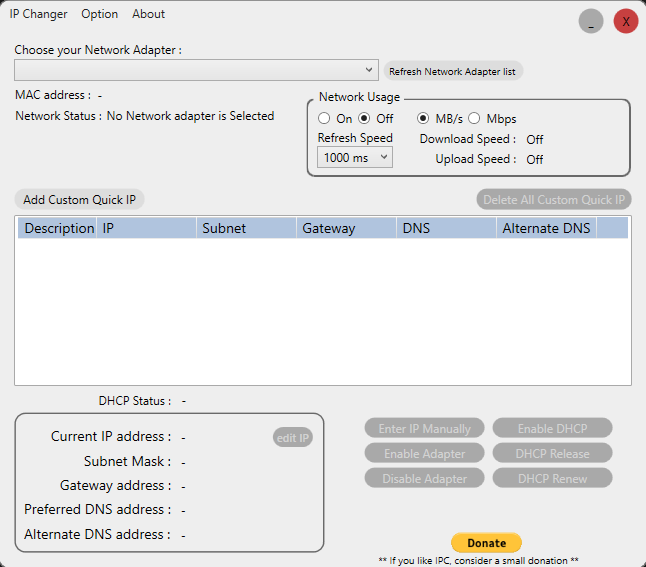 Requirement:
-Windows 7* SP1+
* Windows 7 SP1 is supported with Extended Security Updates installed.
Changelog:
- Self-contained EXE .Net 7
- can modify a custom ip (right-click /modify)
- misc stuff / optimisation
SHA1: E889BB2711FB624F7846CC360A4359AB228256FA
SHA-256: C6431CA89ED970C6E0D39B8266B7B6DAE1E470F9E3D88975FADD3474649508D5
***Download IPC Here***
If you wish to help IPC or simply want to show your appreciation, you can make a
Donation
.
Or
Support us over our
PATREON page
.